OptiMate 6 12V-24V and OptiMate 7 12V-24V: OptiMate performance, now for 24V batteries too!
OptiMate exclusive charging and maintenance programs now available for 24V batteries.

OptiMate 6 12V-24V
offers a versatile solution for those that need to charge both 12V and 24V batteries.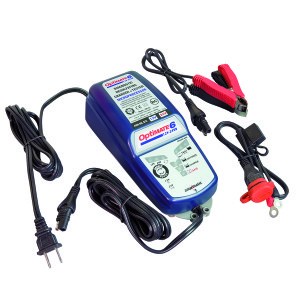 OptiMate 6 Ampmatic has become a benchmark for the maintenance of 12V batteries of sizes up to 240Ah. Its ampmatic technology, constantly adapting current during the charge cycle in function of the battery's charge acceptance, ensure a safe, optimal charge and maintenance of any lead-acid 12V battery.
Now these exclusive advantages are available for 24V batteries, too. Aircrafts, vans, trucks using a 24V battery can now also benefit from OptiMate top-of-class battery charging and maintaining technology!
The OptiMate 6 12V-24V will charge and maintain any 24V battery up to 100Ah (OptiMATE 6 12V-24V) / 200Ah (OptiMATE 7 12V-24V), with accurate temperature compensation.
Both chargers also propose an electronics safe recovery of dead flat batteries. The desulphation mode was developed together with leading aircraft battery manufacturers, to be safe to use on aircraft electronics that are very sensitive to voltage spikes. Also to be mentioned for aircraft industry, theinteractive maintenance mode has been upgraded to offer compensation for high current draw (did you know that some aircrafts draw up to 1 Amp from the battery even if parked and engine off? Another good reason to hook up an OptiMate!)

And to ensure user's safety, the SAFE program will prevent you from charging the battery with wrong voltage (selected voltage must always match the battery voltage).
OptiMate, battery performance guaranteed!